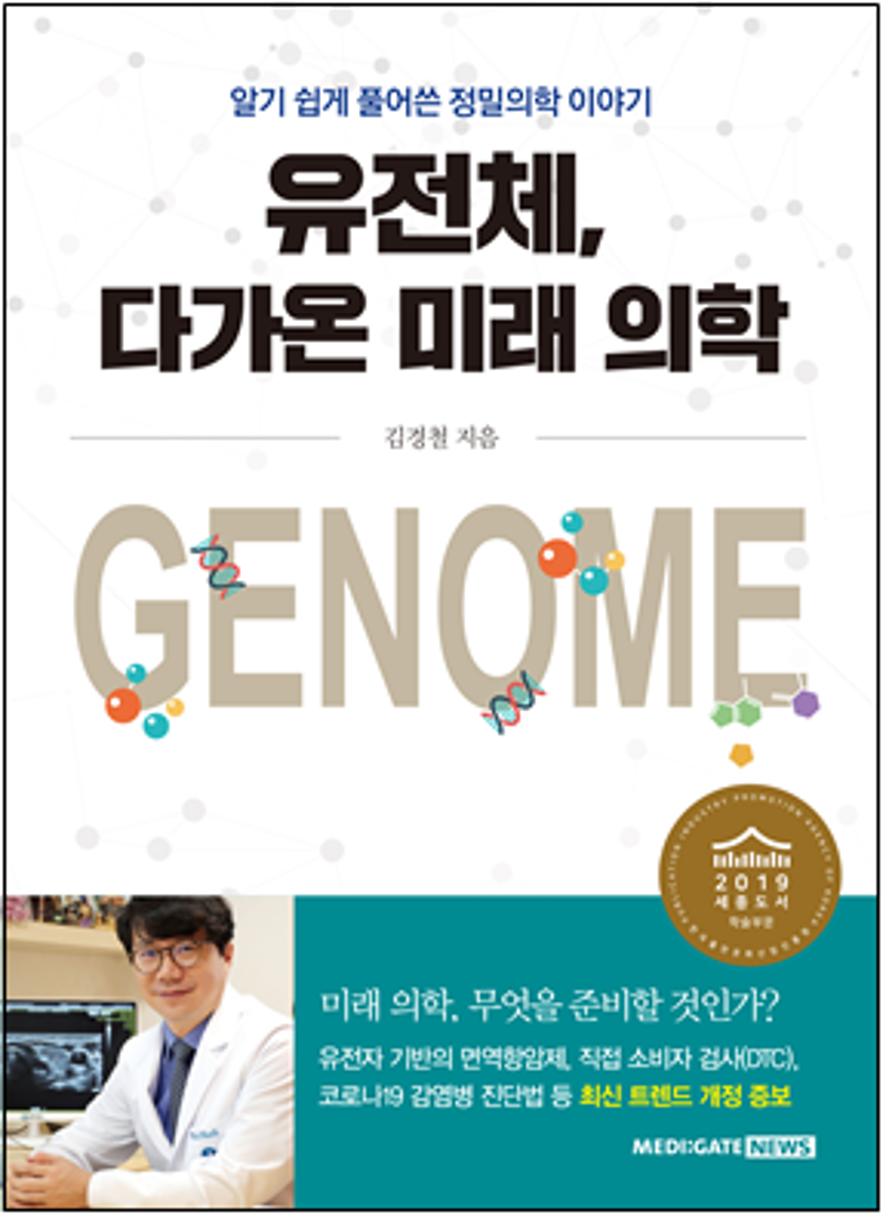 'Genome, the Future Medicine that has Approached' is published as a revised edition to celebrate the selection by Sejong Books Written by Dr. Kyung-Cheol Kim, published by MEDI:GATE NEWS...
Contents on diagnostic methods of COVID-19, cancer immunotherapy, DTC and the latest trends included
[관련기사=
'유전체, 다가온 미래의학' 세종도서 선정 기념 개정증보판 출간
]
On the 21st, a revised version of "Genome, the Future Medicine that has Approached" was published and this is based on the column entitled "The special lecture for the doctors on the Genome Medicine" published in MEDI:GATE NEWS.
Selected in the 2019 Sejong Books Academic Sector as a professional book dealing with future medicines, this book was nominated as a bestseller and added 64 pages from the first edition. This is because genomic medicine is the field that new information and knowledge continue to come out, and there is a room for rapid updates in the future.
First of all, the author's expertise in diagnosing infectious diseases, which has become a hot issue in the face of suffering from COVID-19 was added, and the latest trends such as gene-based cancer immunotherapy and direct to consumer tests (DTC) were reflected.
Dr. Kyung-CheolKim, the author of a series of genome medicine columns, the subject that became the hot potato in our daily lives, is currently the head of management at Gangnam Major Hospital (formerly Gangnam Mizmedi Hospital). Graduating from the medical school of Yonsei University, he is specialized in Family Medicine, and earned a master's degree in Health Sciences and a Ph.D. in Aging Science.
He studied nutritional genetics and epigenetics at Tufts University in Boston. The author led the development of field-oriented genome products by conducting medical treatment and research in parallel, based on 'Disease Prediction and Personalized Treatment through Genetic Test', which he studied and experienced while working at Cha Medical University.
According to the author, genomic medicine is a major topic of medical and bio industry preparing for future medicine, and is the field of needs for expertise. Angelina Jolie, despite of not having breast cancer, courageously announced it after removing breast tissue. In the midst of this which makes the worldly-known actress be prepared for the prevention of breast cancer and ovarian cancer, the disease prediction genetic testing is deeply involved.
This book practically deals with the progress and development of genomic medicine making an impact in the medical and industrial sectors and the expert knowledge of future medicine. It covers the basic knowledge of genomics, platform introduction, the advent of the personalized medical era, precision medicine and big data changing medicine and industry, the benefits of genetic scissors technology, and ethical issues derived from the development of the genome industry. If you are curious about the revolutionary changes and the flow that genomics will bring, this book can give you a practical help.
The author said, "The meeting of IT and BT is now the most critical convergence point for future medicine. "Bio-knowledge is unfamiliar and computer technology is even more unfamiliar for theclinicians, but reading this book means you've already taken a step towards the future medicine."
By Sol Im