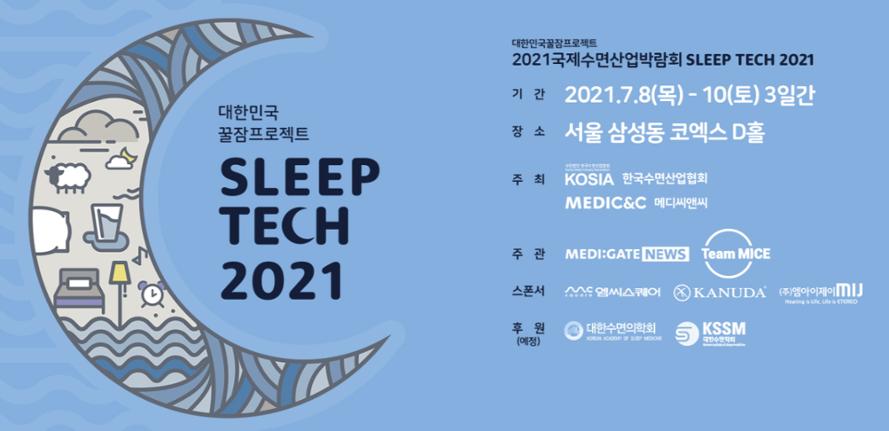 [관련기사=
2021 대한민국 꿀잠 프로젝트 '슬립테크2021' 7월 8~10일 코엑스 개최
]
2021 Korea Good Night Sleep Project 'Sleep Tech 2021' to be held at COEX in July 8th~10th 2021
Hosted by Korea Sleep Industry Association∙ MEDIC&C…"People sleep one third of their lives, Until the Koreas have a goodnight sleep.
2021 Korea Good Sleep Project 'Sleep Tech 2021' exhibition, which is hosted the second time this year since last year, will be held at COEX D Hall on July 8(Thurs.)~10(Sat.) in Samsung-dong, Seoul.
'Sleep Tech 2021' exhibition is arranged to remind the people of the importance of sleeping health, to have them realize that sleeping disorder is a disease, and to contribute to the development of the sleeping industry that grows every year. This exhibition is organized by Korea Sleep Industry Association and MEDIC&C that runs Medigate, the largest doctors' portal and it is operated by Medigate News and TeamMice.
The domestic sleep industry has grown 6 times in the past seven years, surpassing 3 trillion won in 2019 from 500 billion won in 2012. As the sleep industry has emerged into a new growth engine worldwide, the "sleep" has risen into the mainstream across all industries not only in traditional consumer goods such as beds and pillows, but also in medical, pharma∙bio sectors as well as products integrating beauty and IT technologies.
At the same time, the patients who suffer from sleeping disorders are increasing. According to the National Health Insurance Corporation, the number of patients who visited medical institution due to sleeping disorders in 2019 was counted as 640,000, up 13% from the previous year. As the Polysomnography began applicable to the health insurance in July 2018, more patients are visiting hospitals or clinics due to sleeping disorders.
Reviewing major participants in the last year, MCSqure launched 'Sleep Square Smart Pillow' implementing the functions of 'sleep induction', 'sleep monitoring,' and 'sleep maintenance' which all happen simultaneously. Kanuda introduced comfortable sleeping environments by launching new mattress products. MIJ introduced the productsthat could provide comfortable sleeping environments to the tinnitus patients who are suffering from the sleeping disorders. Sewon Intelligence and Korea Research Institute of Standards and Science introduced 'intelligent and real-time health monitoring system' that could be used for health care by measuring unconscious movements during sleeping and even in daily lives. FamilyCampingCar allowed people experience sleeping environments in the outdoor camping settings that are increasing since the outbreak of Covid 19, with the theme of 'good sleep under the moonlight.'
The sleeping specialistswill conduct one-on-one counseling sessions for those who suffer from the insomnia. Along with special health lectures related to sleeping health, a separate event will be organized to learn about sleeping health and IT technology trends.
The exhibition will also be thoroughly quarantined in the situation of Covid 19. From the beginning of the entrance to the event, the staff will check the temperature, and professional security guards will recommend the visitors to wear masks. Each lecture attendees will maintain a certain distance.
At the opening ceremony, Shim Jae won, CEO of MEDIC&C said "Sleeping is so important that we spend a third of our lives sleeping. Now it is especially emphasized not just sleeping but getting a good night sleep." Starting with this exhibition, MEDIC&C will work with academia and industry to make every effort for all of the people to sleep well."
Meanwhile, companies or institutions that want to participate in Sleep Tech 2021, or visitors who want to pre-register, can refer to the website of the Sleep Tech Secretariat (
http://www.sleep-tech.co.kr/
).
by Sol Im