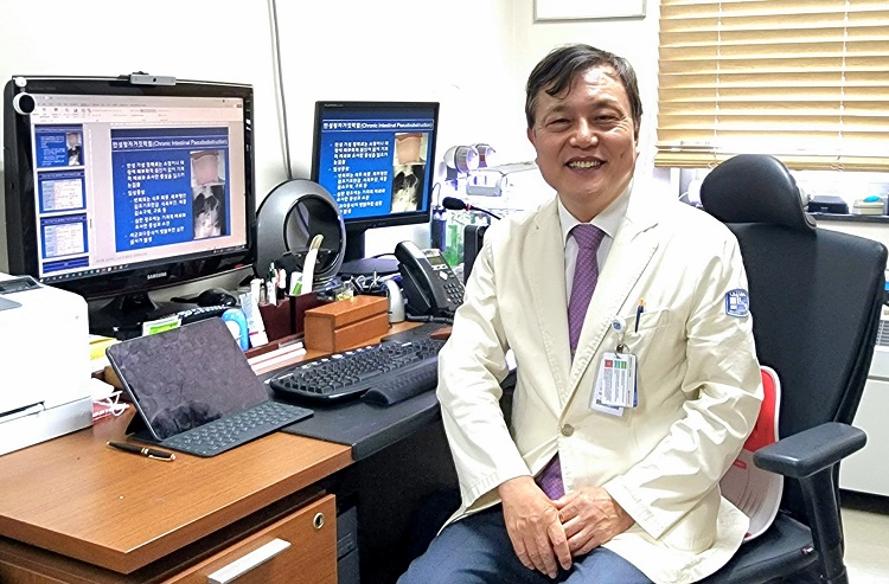 [관련기사=
수술로 장 마비 해결 안되는 가성 장폐색, 기계적 장폐색과 어떻게 구분할까
]
How to distinguish intestinal pseudo-obstruction from mechanical obstruction Chronic Intestinal Pseudo-obstruction is a disease in which the nerves and muscles of the small intestine are slowly damaged over a long period due to systemic diseases such as diabetes, amyloidosis, and Parkinson's disease. Patients usually do not seem to have any problems in a stable state. But if aggravating factors overlap, such as taking certain medications, electrolyte disturbances, or decreased thyroid function, the intestine does not move. When the patients' intestine stops resulting in pseudo-obstruction, they visit the hospital due to symptoms such as abdominal distension, abdominal pain, and vomiting. At this point, when the intestine is severely dilated as if it is about to burst, it should be treated immediately.
Professor Myung-Gyu Choi, the former chairman of the Korean Society of Neurogastroenterology and Motility, said, "Since chronic pseudo-obstruction progresses over several years, it looks like usual dyspeptic symptom in a stable state. However, in acute patients with severe abdominal distention due to pseudo-obstruction, it should be distinguished from mechanical obstruction that requires surgical treatment.
Mechanical obstruction requires emergency treatment or surgery, but pseudo-obstruction cannot be treated with surgery. Rather, local treatment like surgery in patients with pseudo-obstruction and poor systemic conditions may cause big problems.
For the treatment of pseudo-obstruction, it is necessary first to check if there is a secondary cause that can be cured. Professor Choi said, "Mechanical obstruction has a problem only at the affected area, and there are usually no other systemic abnormalities. On the other hand, the patients with pseudo-obstruction have a loss of nerves and muscles of other organs or difficulty swallowing the esophagus due to a long-standing illness. Also, these patients exhibit malnutrition, cachexia, or symptoms and signs of systemic diseases. Professor Choi explained, "In pseudo-obstruction, both the small and large intestines can bedilated, whereas, in mechanical obstruction, only the upper part of the obstruction dilates and the lower part does not so that x-rays can distinguish it."
He said, "In particular, when pseudo-obstruction occurs in a patient with severe underlying diseases, we observethe changes of air shadow in serial x-ray to determine how much intestinal motility is recovering. But it is time-consuming and is difficult to distinguish." He went on to say, "In this case, we can objectively measure how much intestinal motility has returned by having the patient taking radio-opaque markers used to diagnose constipation and checking that the markers move."
Small Intestinal Bacterial Overgrowth (SIBO) frequently occurs in pseudo-obstruction. Professor Choi said, "If patients with decreased intestinal motility, such as diabetes or scleroderma patients, suddenly complain of severe diarrhea or fatty stool, SIBO can be suspected.If these patients complain of diarrhea without fever, empirical antibiotics treatment is a good tip for both treatment and diagnostic purposes. However, in this case, antidiarrheal drugs are no help."
In addition, caution should be taken not to inadvertently use high-fiber laxatives. The fiber stays in the intestines and forms hard stools, which can make the intestine more obstructed.
Finally, Professor Choi said, "Because mechanical obstruction has a correctable cause such as tumor, infection, electrolyte disorder, it should be found and treated immediately. But pseudo-obstruction requires conservative therapy to return dilated intestine to the normal state. And the endoscopic decompressive treatment is sometimes necessary when the intestine is too excessively dilated. Therefore, these two conditions must be accurately distinguished."
by Do-young Park