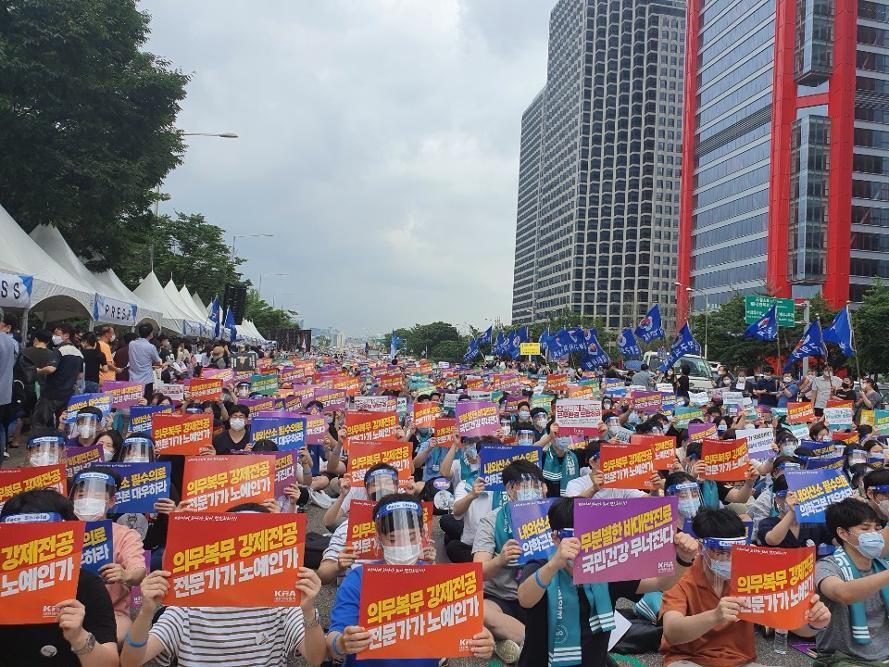 "A struggle against the policy of increasing medical school admission quotas"...the fourth year students of 40 medical schools and medical graduate schools nationwide, the participation rate refusing to takethe national examination is 88.9%
​The fourth-year students of medical schoolsand medical graduate schools nationwide are pushing against taking the national examination following after the refusal of classes and practices in opposition to increase medical school admission quotas and the establishment of public medical schools by government.
Based on the survey result of the Korean Medical Student Association, the refusal rate of national examination for fourth year students in 40 medical school·medical graduate school accounted for 88.9% (2475 people) out of a total respondent of 2784. The survey response rate for a total of 3,036 fourth-year national examination applicant was 91.7%(2,784 people) and the refusal rate of the national examinationforentireapplicant groupwas81.5%.
Korea Health Personnel Licensing Examination Institutepreviously announced that it will conduct the Clinical Performance Exam of the85thKorean Medical Licensing Examination(KMLE) from Sep. 1st. With the refusal decision of the CPX by Korean Medical Student Association(KMSA), as of 6pm, Aug. 25th,2,823applicants (89%)out of the 3,172registrants submitted applications for cancellations and refunds tothe Korea Health personnel Licensing Examination Institute.
Regarding that, KMSA said "Asfuture medical professionals, we are responsible for contemplating and resolving together the issuesthat the medical community is confronting with" and "thestudents who could not participate in the refusal due to various reasons also expressed their solidarity. The will and desire to improve the medical environment of our country have led people to act."
KMSA said "The governmentmust immediately stop pursuing the current policy and they need to figure out the fundamental issue with the medical experts and start again with the process of finding the root cause" and "they need to figure out what are the causes forthe medical underserved area, the avoidance of theessential medical department, and they should stop stopthe insurance payment on the herbal medicine.