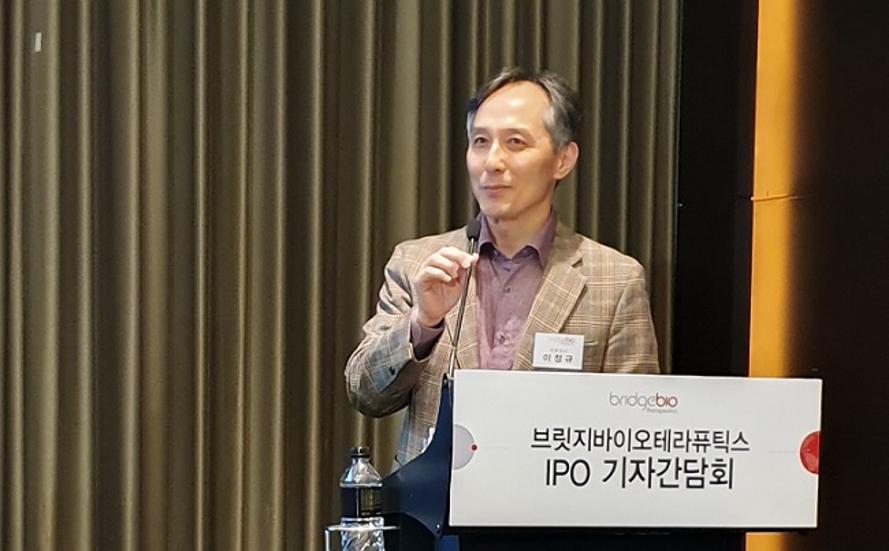 [관련기사=
창립 4년만에 1.5조 글로벌 기술이전한 브릿지바이오…"코스닥 상장 통해 글로벌 바이오텍 도약 다짐"
]
Bridge Bio achieving 1.5 trillion technology transfer after 4 years of its establishment…"Determined to make a leap to a global biotech through KOSDAQ listing"
Advancement of innovative drug development and business capability after entering KOSDAQ in December… The goal is to develop and be approved on its own like SK Biopharmaceuticals in a long term
The Bridge Biotherapeutics, the specialist in the development of innovative drugs, held a press conference at Conrad Hotel in Yeouido on the 22nd to announce it business priorities, key achievements, development pipeline status, and future plans in relation to its drive to list the company in KOSDAQ .
The Bridge Bio, which is seeking entry into KOSDAQ in December based on the growth potential, is the representative development bio tech in Korea and is leading the industry through the 'No Research Development Only' business model.
Core competencies of the company include: ▲securing competitive drug candidate and ▲rapid and efficient global clinical development. In particular, the company is maximizing the possibility of large-scale technology transfer by adopting 'Best-in-class' or 'First-in-class' drug candidate that targets diseases with high unmet medical demands. .
This resulted in a large-scale technology transfer within four years of the company establishment. In July, BBT-877, a drug candidate for idiopathic pulmonary fibrosis (IPF), developed by the company in July, was transferred to Boringer Ingelheim, a global pharmaceutical company, for about 1.5 trillion won.
BBT-401 (a drug candidate for treatment of ulcerative colitis), currently undergoing Phase II clinical trials in the US, is expected to achieve global technology transfer in 2021 based on clinical data on safety, efficacy, and effects through selective drug distribution in the large intestine.
Based on the two technology transfer agreements already concluded, the company expects sales of KRW 55.9 billion this year and sales of KRW 82.8 billion next year.
The CEO of Bridge Bio, Lee Jungkue said, "We will secure continuous growth momentum by optimizing drug candidates under clinical development and securing late clinical development capabilities through IPO."
By Do-Young Park