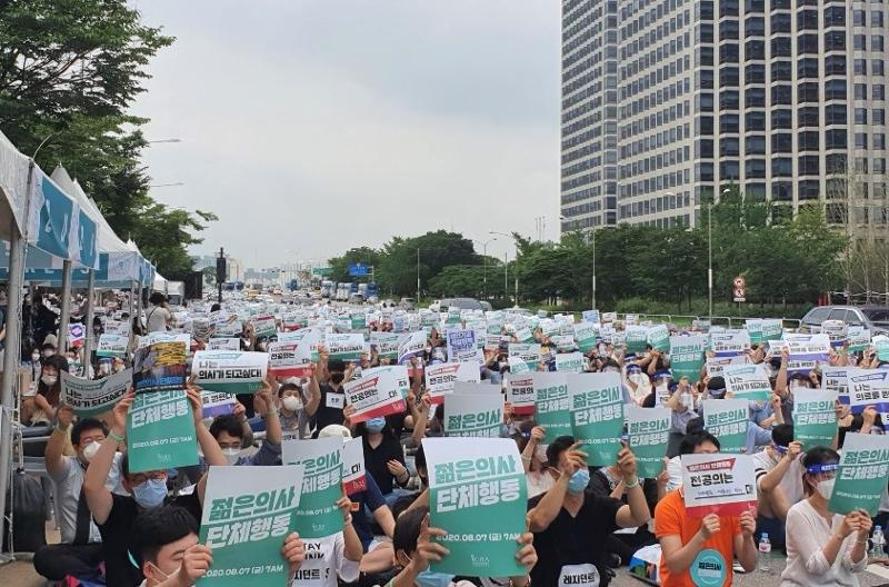 The residents were surprised by the result of Yeouido rally "10,000 people participated voluntarily"
The Korean Intern and Resident Association(KIRA) proceeded with 'the first young doctor's group action' rally opposing the government's policy of increasing medical school admission quotas in Yeouido park from 2pm to 5pm on Aug 7.
On this day, the walkout rally of the residents attracted great attention, as more residents gathered than expected and the start time was delayed for more than 40 minutes. In particular, it is estimated that 10,000 people attended the rally, far exceeding the originally expected 3,000-4,000.
At the beginning of the rally, although one lane was increased in the expected assembly space, the lack of space resulted in a long line of residents in Yeouido Park next to the assembly space.
In particular, although a large number of people gathered, they kept the precautions for preventing Covid 19 infection until the end, wearing a mask and face shield, taking care of infection. In addition, after the rally, small group meetingwere banned and unnecessary conversations during the rally were also prohibited.
On this day, through the group action resolution, the residents urged a full re-discussion of policies, such as the issue of increasing medical school admission quotas, which had been passed in a hurry.
On the 23rd of last month, the Democratic Party, the Ministry of Health and Welfare, and the Ministry of Education announced that they would increase 4,000 medical students over 10-year period through a ruling party-governmentcouncil. Currently, there are 3,058 medical students admitted per year, and the plan is to increase the capacity by 400 each year, including 300 public sector doctors and 100 epidemiological investigators·medical scientists, adding 4,000 over 10 years. If 327 student quotas of oriental medicine are transferred and 50 students in public medical schools are added, there will be 800 more doctorsadded each year.
Lee Kyung-min, Director of The Korean Intern and Resident Association(KIRA), said, "If the number of medical students increases by 4,000, they are predicting that there will be more doctors in the public sector and medically vulnerable areas." "However, as a result of the'regional doctor system' in Japan, he pointed out that only the medical expense and the city concentration rate of the doctors increased."
Chairman Park Ji-hyun of the KIRA said, "The government should reconsider the reckless expansion of medical school quotas, establishment of public medical schools, and the reimbursement of herbal medicines," and said "the government should reflect the voices of young doctors and the field in all medical policy formulations, and immediately stop threatening through training hospitals and media play against the residents."
Chairman Park emphasized, "If the government does not accept the requests, we will never stop acting in groups," and addressed "16,000 residents from all over the country will not yield to the government's vulgar behavior and will gather the will to fight."