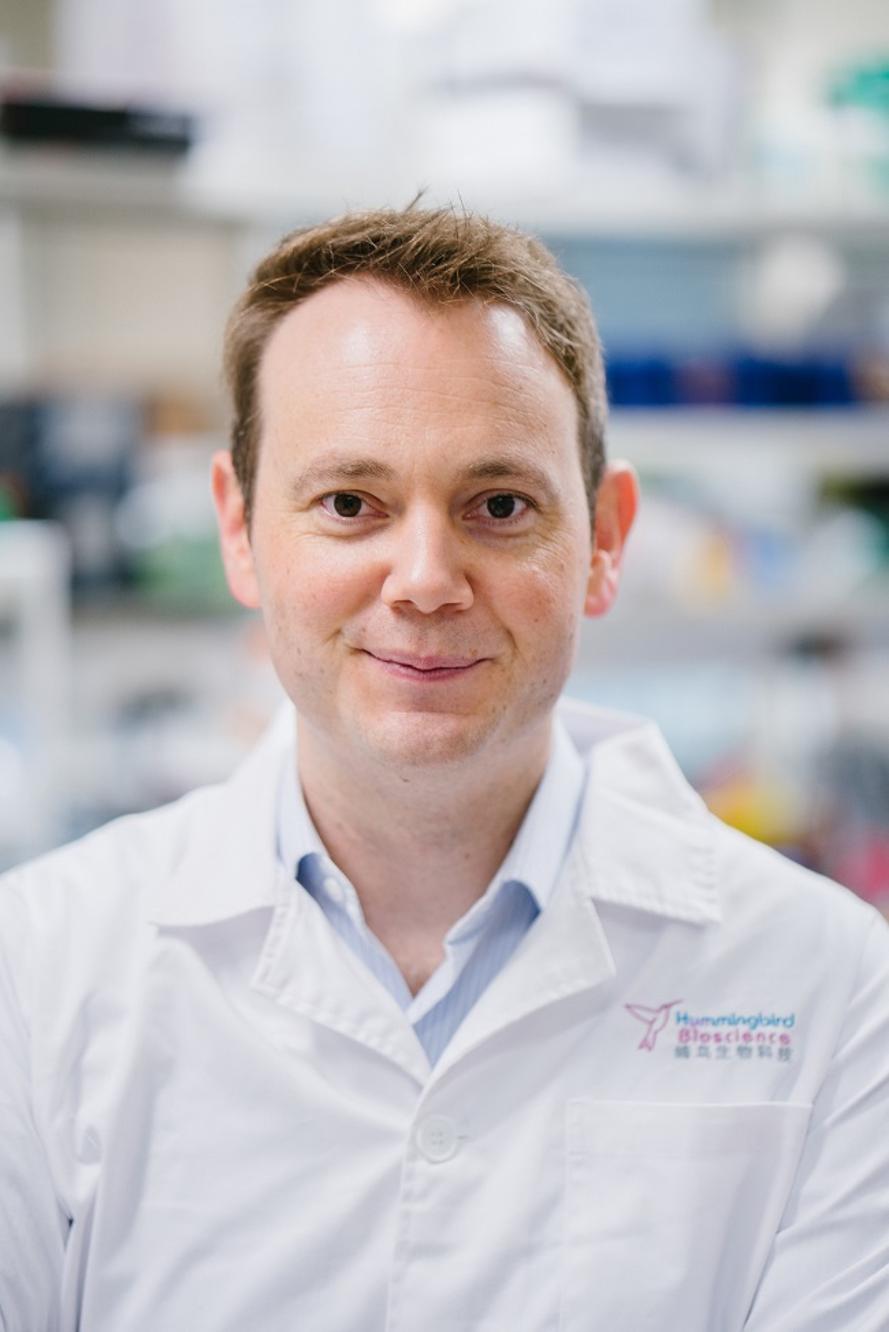 Piers Ingram CEO "Development of innovative targeted therapeutics with a system biology-based approach and technology platform"
[관련기사=
SK 등 한국 투자자들이 싱가포르 바이오벤처 '허밍버드 바이오사이언스'에 주목한 이유는
]
Singapore bio-venture company Hummingbird Bioscience received an additional investment of approximately 8 billion won(about 6.5 million USD) in May of this year following the attraction of Series B investment of 27.2 billion won(19 million USD) last December.
What stands out is the large amount of investment that Korean investors have made in the company.
Mirae Asset Venture Investment and G&Tech Venture Investment were jointly led by the company's Series B investments, as well as existing investors Heritas Capital and Seas Capital, and new investors China-based Delian Capital. Korean investors such as Value-Gilt Edge Partners, HB Investment, Mirae Asset Capital, Wooshin Venture Investment, and Kiwoom Investment-Shinhan Capital participated. In addition, SK, an investment-type holding company, participated as a major investor.
On the first day of the BioKorea 2020 conference, Hummingbird also announced about their approach in using systems biology and computationally guided platform to therapeutic drug discovery and development at the Therapeutics Antibody panel discussion session.
What opportunities did Korean investors see at Singapore's Bio Ventures, five years old? MedigateNews heard about Hummingbird's technology and future strategy in a single interview with Dr. Piers Ingram, CEO and co-founder of Hummingbird.
Dr. Ingram received a Ph.D. in System Biology from Imperial College London and has been involved in a variety of academia, including serving as the head of the Imperial College Research Group. Later, he worked on biopharmaceutical R&D consulting and commercialization strategy at Sanofi. He also completed an MBA course at INSEAD.  
He founded Hummingbird in 2015, based on his experience in system biology and immunology, and said he would like to focus on developing and developing new drugs utilizing system biology and immunology.
Q. Hummingbird Bioscience could be new to Korean readers as its Headquarter is located in Singapore. Could you share some details about the company, such as the thing that inspired you to establish this company, the people working for the company and the kinds of major events that took place in the past.  
Hummingbird Bioscience was founded in 2015 to address the need for new approaches to drug discovery and development.   
My cofounder, Jerome Boyd-Kirkup, and I had a strong belief in the modern approaches to systems biology that could profoundly impact drug discovery and development process. 
One of the key enablers Hummingbird has – and the reason we started this company – is that we have the ability to prosecute drug targets where we knew that the biological rationale for the importance of the target in the disease process is well-understood, and yet classical approaches had not enabled the successful development of therapies that could yield significant impact. We felt that there had to be a better and methodical way to generate an effective response. To do that, we needed to identify the critical functions of these challenging target proteins and isolate the antibodies that bind them. 
By combining our expertise in systems biology and computational science, we developed a proprietary technology platform that has allowed us to fully maximize the therapeutic potential of a target, and consequently allow us to engineer next generation therapies against these targets that might have previously been elusive. We believe this to be a bold, new way of developing the right drugs for the right people.  
Since our founding, we grew from a two-man team to more than 30+ full-time senior scientist and research associates with expertise in all aspects of antibody discovery and development. We have key research capabilities in Singapore including Antibody Discovery and Engineering, Pharmacology and Production; and Clinical Development and Business Development operations in Houston, Texas and South San Francisco, California. 
We have an established an exceptional Scientific Advisory Board that includes Nobel Laureate in Medicine, Professor James P Allison. 
We strongly believe that our science, and we are very encouraged by the progress we have been able to make. We have, through our technology platform, been able to deliver two lead candidates with novel mechanisms of action against two very challenging targets – HER3 and VISTA – both of which have the potential to be first or best-in-class therapeutics, as well as a rich pipeline of preclinical programs. We have published a paper on our HER3 asset in a highly-rated peer reviewed AACR journal, Molecular Cancer Therapeutics. 
We have also established strategic partnerships with world-leading institutions such as Cancer Research UK and Amgen, and have received grant funding from Cancer Prevention and Research Institute of Texas, a highly-prestigious award that is only given to a selected group of grantees a year.
We continue to receive interest from investors as you have seen in the Series B extension, despite the challenging global environment.
Q. Along with the Series B investment on last December, you secured additional investment from SK and others. What do you think SK and other investors were interested to invest further on Hummingbird? Especially in your view, what made Korean investors to make such investment? 
Investors are often looking for bets on the "next big thing" – leapfrog technologies or products that can truly revolutionize status quo or make a difference in the market. 
I believe that we, at Hummingbird, are challenging the status quo and have a well-validated, proprietary platform that is game-changing. Through our technology platform we are able to overcome the stumbling blocks in classical approaches to drug discovery that have so far not been able to produce optimal antibodies, especially against those targets that are challenging to drug. In a short span of 5 years, we have delivered compelling assets that have shown promise and potential to be the next breakthrough.  
Fundamentally, our mission has been and is to revolutionize drug discovery and development. From a Hummingbird perspective, when we look for investors, we also seek those that share the same values and vision as us – to make a difference and change treatment outcomes. 
Q. What are the strengths and exclusive expertise of Hummingbird Bioscience? 
Fundamental to our success and key strength is our team. We have a very well-established, strong team of 30+ scientists/researcher with deep antibody discovery and development expertise. This is demonstrated by our leadership team, our research and development team as well as our scientific advisory board members. 
Because of them, we are able to develop a proprietary platform that has successfully delivered highly differentiated assets with unique mechanisms of action against very challenging targets such as HER3 and VISTA. I believe that we are leading the industry in the way we are approaching drug discovery. Our unique and novel approach has allowed us to fully maximize the therapeutic potential of a target and optimally guided therapeutics discovery – and ultimately, engineer the next breakthrough therapies. 
Q. I've heard that the major pipelines – HMBD-001 and HMBD 002 – will go through clinical trials once it they receive IND approval in the fourth quarter this year. What are the targets of these pipelines and what are their mechanisms? 
We have two lead assets: HMBD-001, an anti-HER3 antibody, and HMBD-002, an anti-VISTA antibody. 
We are planning to study HMBD-001 in gastric cancer, colorectal cancer, and an increasingly important genetically defined population known as NRG1 fusion, which is present in 1–2% of many cancer types including lung and pancreatic cancer. These are areas of high unmet need as current therapies often fail patients.
Previous attempts to block the HER3 receptor, a key player in the signaling pathway that promotes cell division and tumor growth in cancer, have not proven to be efficacious as antibodies targeting HER3 have not only inhibited one of the mechanisms by which HER3 is activated. By binding a unique region of the protein that other antibodies have been unable to hit, HMBD-001 completely blocks HER3 activation by both mechanisms. This results in highly effective suppression of tumor growth.
Preclinical models have shown that HMBD-001 is able to effectively and uniquely bind to a difficult-to-target region on HER3, blocking the heterodimerization of HER3 with HER2/EGFR, independent of NRG binding. This strongly inhibits the activation of the downstream signaling pathway – and consequently, tumor growth.
We intend to study HMBD-002 in solid and hematological cancers. VISTA is a co-inhibitory immune checkpoint receptor of the B7 family that suppresses T-cell activity and has been shown to play a critical role in the formation of tumors and resistance to immunotherapy in cancer.  
HMBD-002 binds to VISTA at a specific site predicted to be essential for ligand-binding and function, inhibiting VISTA and neutralizing its activity in cancer cells.  
Preclinical models have shown that a single dose of HMBD-002 as a monotherapy significantly reduces tumor progression, prolongs progression-free survival and inhibits tumor growth with no observed toxicity. Its application as combination therapy with antibodies against PD(L)-1 shows potential to more than double its efficacy.
Q. Moving forward, what is Hummingbird Bioscience's strategy for the future?
As we move two of our lead programs into the clinic later this year, we are fortunate to have the resources to invest further in our early stage pipeline. 
We continue to focus our efforts on drug targets with strong biological validation and disease association, but which have proven challenging or impossible to effectively obtain suitable antibodies or drugs using traditional approaches or other platforms. We designed our rational antibody discovery platform specifically to effectively tackle these targets and make them accessible to therapeutic modulation.
Q. Are there any messages you would like to deliver to the readers or anything you want to add about Hummingbird Bioscience? 
We would like to build our reputation as a company conducting world class science in the pursuit of meaningful advances in treatment outcomes for patients.  
We are working in an era when we have unparalleled technologies to help us understand human physiology and disease, however the challenge is developing the right insights into these complex systems, and then developing therapies that allow us to take advantage of our understanding. We believe that our systems biology driven approaches and the technology platforms we are developing have the potential to revolutionize treatment outcomes.
By Do-Young Park