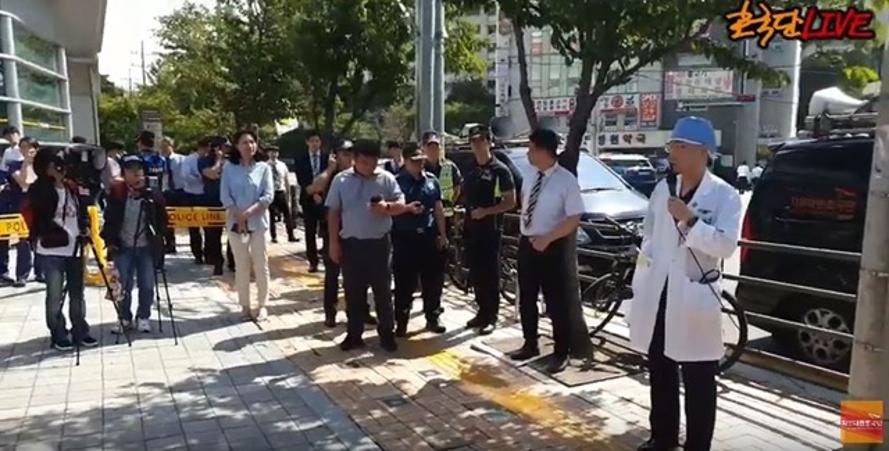 " Please terminate me."
"The petitions were filed many times at the MOHW and HIRA"
Professor Lee Kuk Jong, Head of the Acute Injury Center, appeared at a conservative group rally condemning him to speak for himself at 12 pm on the 24th.
"(The petition) is not a scholarly conscience. I am a laborer who does physical works here. I am being humiliated while working. I feel embarrassed. They seem to demand me disciplined and there are many Heads in the medical center who are frustrated because they can't terminate me. If I am demanded to be disciplined, they will be able to terminate me based on the demands. I am tired of all of these.
I've filed the petitions in the past also. Because the poor patients come to the hospital a lot and if they can't pay the hospital bill, I always file the petitions to the Head of the Medical Center, Ministry of Health & Welfare and Health Insurance Review & Assessment Service. I always file many petitions. I am so tired and I feel like dying.
For good reasons, you can hold a rally with political orientations. But this is an outpatient space and a hospital. It's not that you can't do that because it's a hospital. Rather, please tell me (if you have any opinions).
If a message to terminate me is delivered to the Head of the Hospital or Head of the Medical Center, they would like that. Because what is being done here, they would want to terminate me. I can't tell you everything about the polices of Governor Jae Myung Lee, but he resolved difficult issues.
The petition was not only filed to the Governor Jae Myung Lee. It's just that the petitions filed so far haven't been publicly disclosed. This time, it's that the petition was disclosed for whatever reasons.
The Head of the Center and the Head of the Hospital tried to terminate me because a few complaints were received on the noise of the helicopters in the last 16th. I don't mind being terminated for the reason. Maybe, it's better that I be terminated.
by Sol Im