"Sleep health industry enters the 5th industrial revolution"…Suggestions to expand health insurance support and support for promising companies
Enhancing sleep health awareness: National assembly symposium③
Need to establish education counseling fees for CPAP devices and increase healthcare support...Challenges in reducing dependence on 98% imported CPAP devices
MedigateNews co-hosts national parliamentary symposium to improve public awareness on sleep health.

South Korea, known for severe sleep deprivation, records the lowest average sleep duration of 7 hours and 41 minutes, falling far behind the OECD average of 8 hours and 22 minutes. Korean sleep satisfaction scores a mere 2.87 out of 5, displaying a consistent decline annually. This persistent sleep deficit and deteriorating sleep quality have led to a nationwide economic loss estimated at 11.497 trillion won."

The 'National Parliamentary Symposium for Enhancing Public Awareness on Sleep Health' held on August 30th at the National Assembly's Member Conference Room marked the first-ever parliamentary symposium addressing the topic of sleep health. Organized by the Democratic Party's Representative Shin Hyun-young, the symposium was jointly organized by all sleep-related academic societies: the Korean Academy of Sleep Medicine, Korean Society of Sleep Medicine, Korean Sleep Research Society, Korean Society of Sleep and Breathing, Korean Academy of Dental Sleep Medicine, Korean Society of Sleep Research, Korean Sleep Technology Association, and MediGate News.

This event and article received support from the Government Advertising Fund for media promotion.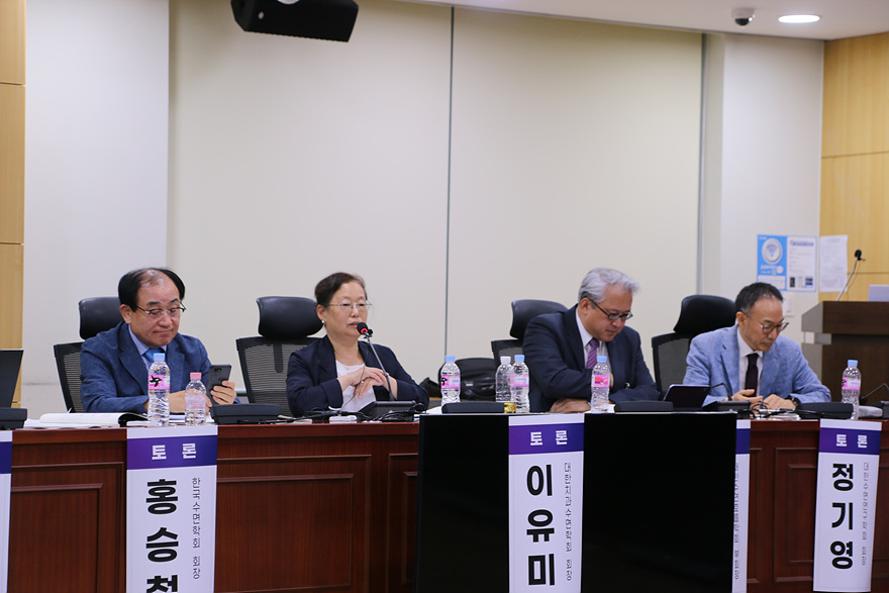 There is a call for improving awareness of sleep disorders and expanding support for the treatment of sleep disorders.
Sleep is a crucial indicator of health, and effective treatment of occurring sleep disorders requires policy efforts and essential financial support from the government.
New counseling fees for education on positive airway pressure therapy for sleep apnea and revisions needed for narcolepsy diagnosis
There are also calls for expanding support for the treatment of major sleep disorders such as sleep apnea and narcolepsy.
Lee Seung-Hoon
, Vice President of the
Korean Society of Sleep and Breathing
(Professor of Otorhinolaryngology at Korea University Ansan Hospital), pointed out the importance of adherence to positive airway pressure therapy in the continuous treatment of sleep apnea. He emphasized the need for comprehensive education and counseling by healthcare professionals at the initial stage of positive airway pressure therapy to improve understanding of the condition, enhance adherence, and ensure appropriate treatment. However, he noted the issue of insufficient counseling fees being set for this essential education despite its significance.
Vice President Lee suggested,
"Despite the fact that prescriptions for positive airway pressure therapy are official documents issued based on a physician's medical judgment, the counseling fees for this therapy have not been properly determined. Therefore, it is necessary to establish counseling fees for education and counseling related to positive airway pressure therapy as well as prescription fees for the therapy."
Furthermore, systematic management of pediatric sleep apnea was recommended, not just for adults but also for children and adolescents.
Vice President Lee stated,
"Around 10% of children have snoring problems, and approximately 3% are diagnosed with pediatric sleep apnea. Pediatric sleep apnea is mainly caused by enlarged tonsils and adenoids and is associated with complications such as growth disorders, behavioral issues, and attention-deficit disorders."
He continued,
"It is crucial to conduct national health check-ups for snoring and sleep apnea in children aged 5-8 and adolescents before military service. Proactive efforts are needed to manage and treat these conditions preemptively throughout the lifespan."
The Issues with the Diagnosis of Narcolepsy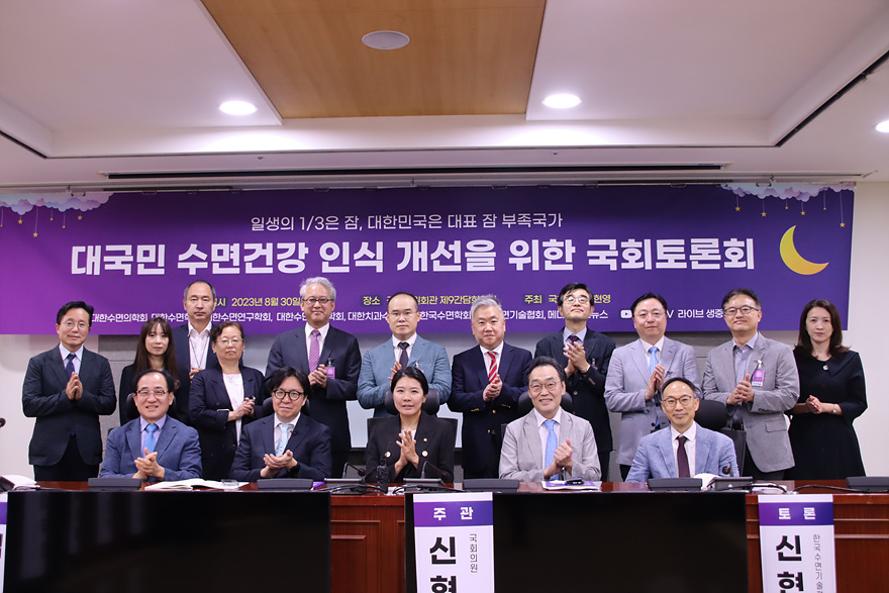 The
Korean Society of Sleep Research
pointed out the issues with the diagnosis of narcolepsy on this day.
According to the society, the criteria for disability diagnosis that should be issued depending on the severity of narcolepsy is currently regulated to include cases where psychiatric symptoms accompany narcoleptic symptoms. As a result, many narcolepsy patients who should be entitled to benefits are unable to receive them.
Hong Seung-Chul
, the president of the Korean Sleep Society and a professor of psychiatry at Catholic University's St. Vincent's Hospital, stated,
"The number of narcolepsy patients currently receiving treatment is estimated to be around 8,700, from 2010 to 2019. Among them, about 5,900 are type 1 narcolepsy patients with cataplexy."
He further explained,
"The estimated number of narcolepsy patients requiring disability diagnosis is around 5-10% of the 5,900 patients. However, only three patients have received disability diagnosis under the current regulation."
He continued,
"The diagnosis of narcolepsy with disability should be conducted according to the severity of narcolepsy. The current provision that includes psychiatric symptoms should be removed."
The field of dentistry also made recommendations.
Lee Yoo-Mi
, the president of the
Korean Academy of Dental Sleep Medicine
and a professor at Wonkwang University Dental Hospital, stated,
"Dentistry is responsible for the oral and maxillofacial area closely related to sleep-disordered breathing. In the field of dentistry, oral devices are used as a means of treating sleep apnea."
She further explained,
"If there is institutional support at the national level, it could be helpful in improving sleep health."
President Lee emphasized,
"It is an urgent moment for mutual cooperation between medicine and dentistry, as well as related institutions, for the sake of the nation's sleep health."
She added,
"For example, in the field of dentistry, orthodontic treatment that controls the growth and development of the jaw from infancy to adolescence can help address sleep apnea issues, and although invasive, surgical procedures such as orthognathic surgery are also possible."
The overreliance on foreign sleep medical devices underscores the need for fostering the sleep industry, seen as a shortcut to the success of the fifth industrial revolution
.
There is also a call for actively nurturing the domestic sleep medical device industry. Currently, sleep evaluation devices rely entirely on imports every year, and for sleep apnea treatment devices, such as positive airway pressure (PAP) machines, 98.27% of them are imported products. This raises concerns about the inadequacy of the domestic sleep medical device industry.
Shin Hyun-Woo
, the President of the
Korean Sleep Tech Association
and head of the Research Division at Seoul Medical School, stated,
"Last year, major manufacturers of PAP machines experienced recalls, leading to supply shortages, causing much suffering for many PAP machine users. Some even suggest securing PAP machine sovereignty."
He further explained,
"Many companies are entering the medical devices industry for sleep diagnosis and treatment, which grows at an annual rate of 20%. However, they face difficulties related to regulatory approvals and inclusion in national health insurance."
He continued,
"Currently, approximately 100,000 patients receive support for PAP machine rental fees through national health insurance. However, every year, 30,000 to 40,000 patients give up using PAP machines, while a similar number of new patients start using them."
He added,
"Ultimately, overseas PAP machine manufacturers benefit greatly from medical expenses, and the situation worsens the dependency on foreign manufacturers, while the securing of domestic technological capabilities remains challenging."
He also highlighted,
"There are still many patients who need treatment, and as national support expands, expenditures related to imported medical devices will also increase. Sleep apnea patients who cannot use or give up using PAP machines come out in the tens of thousands every year, but alternative treatments such as oral appliances are not yet covered by insurance, which poses an economic burden on patients with limited means."
In the end, it is suggested that the country needs to create an environment where promising companies entering the field of sleep diagnosis and sleep medical devices can be properly nurtured.
President Shin said,
"Technologically, we need to compete with the world's leading companies, but the government should provide full support to companies, as lowering the import dependency and contributing to the future growth engine of the country, the sleep industry, is crucial. The sleep industry is indeed a part of the fifth industrial revolution."
By Kyung-dae Ha
※ 본 기획물은 정부광고 수수료로 조성된 언론진흥기금의 지원을 받았습니다.