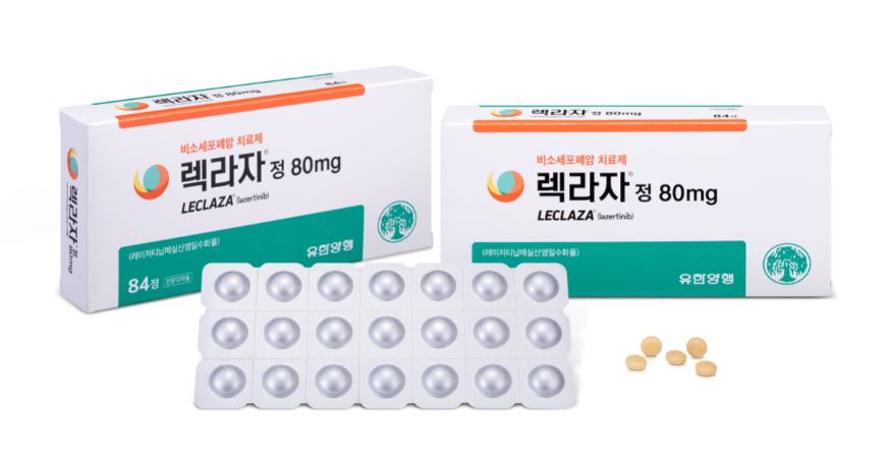 [관련기사 =
렉라자 1차치료제 승인 이유? "L858R 변이·뇌전이·아시안·한국인에서 효능 강점"
]
"Strengths in L858R mutation · brain metastases · Asians and Koreans "
Yuhan Corporation's Leclaza tab(ingredient: Lazertinib) was recently approved by the Ministry of Food and Drug Safety as a first-line treatment for epidermal growth factor receptor (EGFR) mutation-positive non-small cell lung cancer.
The basis for this expansion of approval is the phase 3 clinical trial of LASER301.
The LASER301 clinical trial was done in 96 institutions across 13 countries for 393 patients (258 Asians, 135 non-Asians) with previously untreated active EGFR mutations (exon 19 deletion or exon 21 (L858R) substitution mutation) positive locally advanced or metastatic non-small cell lung cancer.
Professor Cho Byeong-cheol of Yonsei Cancer Center said, "Despite the expansion of early screening, the discovery of EGFR mutations, and the development of a third-line treatment, the prognosis is poor."
"Under these circumstances, the reason why the new lung cancer drug Leclaza was approved as the first-line treatment following the second-line was because we obtained sufficiently good results in global clinical trials," he said.
Professor Cho said, "According to this clinical result, which served as the basis for approval for the first-line treatment, the median value of the investigator-assessed progression-free survival (PFS), which is the primary endpoint in all Leclaza-administered groups, was 20.6 months, and it showed statistically significant improvement compared to the gefitinib-treated group (control group) which showed 9.7 months (hazard ratio (HR) 0.45, 95% confidence interval (CI) 0.34-0.58, p<0.001)." Professor Cho said, "Above all, in both exon 19 deletion and L858R, which account for most EGFR mutations, it had a good effect."
In particular, the L858R mutation had poor patient outcomes in all of the existing 1st, 2nd, and 3rd generation targeted therapies. But, Leclaza had a better prognosis for exon 19 deletion (hazard ratio 0.46 95% CI, 0.33-0.65) as well as L858R (hazard ratio 0.41 95% CI, 0.27-0.62).
In addition, it has overcome the differences in effectiveness between Asians and non-Asians, one of the drawbacks of EGFR-targeted therapies, and the progression-free survival period in Asians and Koreans was higher than that of any other drugs. Analyzing only Asian patients, the median PFS value based on the investigator's evaluation of the Leclaza group was 20.6 months, which was statistically more significant than the result of the gefitinib group, which was 9.7 months(HR, 0.46; 95% CI, 0.34 to 0.63).
"A total of 172 Korean patients were included in the LASER301 clinical trial, and one-third of them already had brain metastasis before the start of the clinical trial," said Kang Jin-hyung, professor of oncology at Seoul St. Mary's Hospital at The Catholic University of Korea. The median PFS based on the investigator's assessment in the gefitinib group (control group) was 9.6 months, whereas in the Leclaza group it was 20.8 months (HR, 0.41; 95% CI, 0.28 to 0.60, p<0.001)."
This significant PFS benefit of Leclaza was consistently shown in the subgroup of patients with brain metastasis, and the safety data was also consistent with the previously reported safety profile, he added. Professor Kang emphasized, "Leclaza was the first drug to confirm on the treatment benefits by including a large number of Korean patients in clinical trials among the 3rd generation EGFR TKIs, and it is meaningful in that an option that reflects the domestic medical field has been added to the treatment options."
by Min-ji Seo