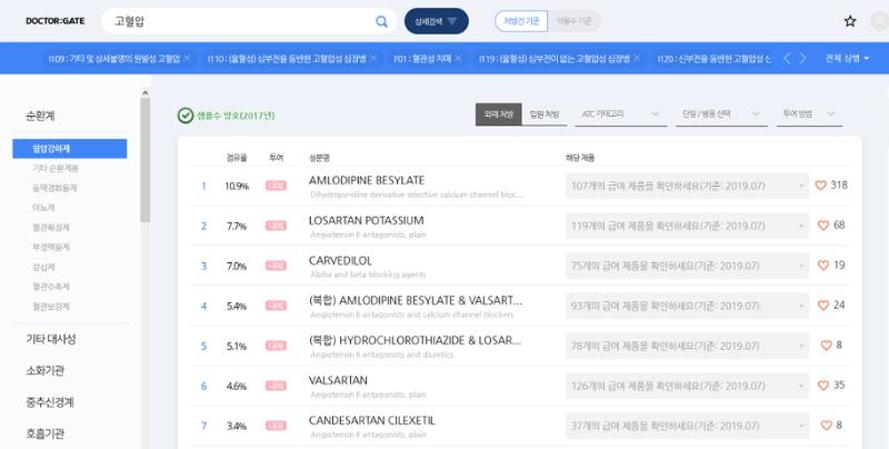 [한글기사=질환별 다빈도 처방 약물 검색 서비스, '닥터게이트' 오픈]
Useful to confirm on the prescription of the experts, to avoid the reduction in the payment from the insurance company, and to check the medical information of the drugs prescribed less frequently
[MedigateNews] The MediCNC, the largest physician community in Korea, announced it has launched the prescription information service 'Doctor:Gate' (
http://data.medigate.net
), which utilizes the actual clinical data, on the 17th of this month.
Doctor:Gate is a prescription information service based on non-identifying clinical big data provided by the Health Insurance Review and Assessment Service. Any medical experts, including medical doctors, can use the Doctor:Gate to check the components of frequently prescribed drugsand drug-related information.
The Medi CNC won the Presidential Award at the '4th Public Data Utilization Startup Competition.'
The users of Doctor:Gate can quickly identify drug prescription patterns by entering simple Korean/English words or disease codeofthe disease name that they have the questions about the prescription results. Also, the users can view the news contents related to the drug or related news contents created by medical doctors.
The Doctor:Gategave a special focus on the combined treatmentservice. The Doctor:Gate users can identify the 2nd and 3rd combined treatment pattern of each drug by the disease according tothe frequently prescribed order from the actual clinic.
In addition, detailed search can be used to identify the prescription patters based on the area of expertise for the physicians, patients' age, their genders, and the size of hospital, and also it makes it possible for the users to edit the browsing range by themselves through the dose method and the filtering functions of ATC category.
Clinical use of the service recommended by Doctor:Gate is for the following cases that ① the doctors often prescribe certain drugs, yet they want to make a reference to the prescription of the doctors specialized in the area (in case a doctor from the primary medical institution wants to refer to the prescription used for diabetes by the endocrinologist at the advanced general hospital, etc) ② the doctors are unclear on the possibility of the payment from the insurance company for a certain drugs and they want to check on the frequently prescribed drugs to avoid the possible reduction of payment from the insurance company ③ the doctors have to prescribe on the drugs that they don't remember quite well due to the low prescription frequency.
The representative from the Doctor:Gate said, "There have been many solution services utilizing the sample data from the Health Insurance Review and Assessment Service, yet I think this is the very first time that a user-based full-open service is available. We will do our best to add the data from the various perspectives of the doctors and medical specialists going forward and to improve the user accessibility. "
This service is available to anyone without a separate login. However, privileges for generating comments per drug or viewing posts related to drugs are restricted to the MediGate's doctor login users only.
By Sol Im