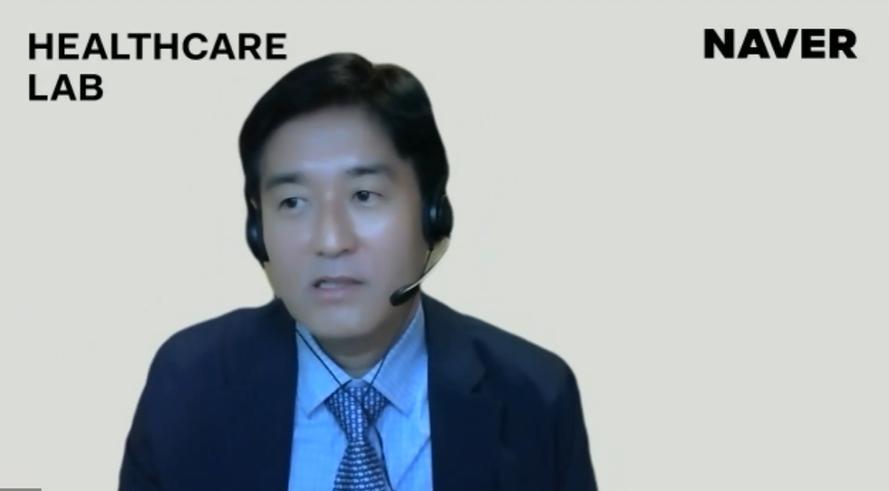 [관련기사='
최고의 사내병원' 꿈꾸는 나군호 네이버 헬스케어연구소장
]
[MedigateNews] Naver Care is a place where Naver employees can receive treatment for acute diseases, such as stomachache or flu. Even with chronic diseases such as diabetes and high blood pressure, the employees can be provided with regular care and receive medication. In addition, it provides a total solution for musculoskeletal disorders specialized for IT company employees.
Any Naver employee can makes a reservation through the Naver app and then enter a questionnaire in advance. The contents are automatically uploaded to the cloud EMR (Electronic Medical Record), and then you can receive treatments based on the information provided. Individual contribution on the medical payment is the same as to the level of general clinics.
As head of Naver Healthcare Research Center, Rha Gun-ho, a former professor of urology at Severance Hospital, has been working since December 2020, followed by 5 doctors including rehabilitation medicine specialist, endocrinologist, family medicine specialist, and otolaryngology specialist. The total size of the area of Naver Care is 962㎡ (291 pyeong), and it has 4 treatment rooms, a body measurement room, a thermoelectric treatment room, musculoskeletal rehabilitation exercise, cardiac rehabilitation treatment, and an infusion room.
In addition, Naver Healthcare Research Center is working with Naver artificial intelligence platform Clova to connect patients and medical staffs, to increase the efficiency of doctors, and to provide remote treatments.
Last year, Naver and Seongnam City launched the Corona Clova Care Call, a pilot project for AI Corona Active Monitoring. It is the service that records the responses after making automatic calls twice a day to those under active monitoring and self-quarantine. They launched the AI based hospital reservation program in alliance with Hospital AI Call Center, Media Air, and the service will be expanded to cover advance questionnaires, medical appointments, and hospital guidance. Currently, the service is released for dental clinics and it is in its way of expansion.
Director Rha said, "From the next month, we will gradually spread the Clova Care Call to the medical community. The health monitoring becomes possible as the call continues the conversation based on the context of the previous calls."
The basic health monitoring items of Clova Care Call are health conditions, eating, sleeping, exercise, outing, and etc. The Clova Care Call Report automatically delivers health monitoring items to the campaign executor by e-mail along with the call status after the campaign ends.
Director Rha said, "Naver basically wants to create the best in-house hospital. And we will continue to develop the ways to reduce the time of medical staffs and to improve work efficiency" and he went onto say "Going forward, step by step, we will implement the service that will be recognized not only in Korea but also in the globe by combining Naver's technology with healthcare."
by Sol Im