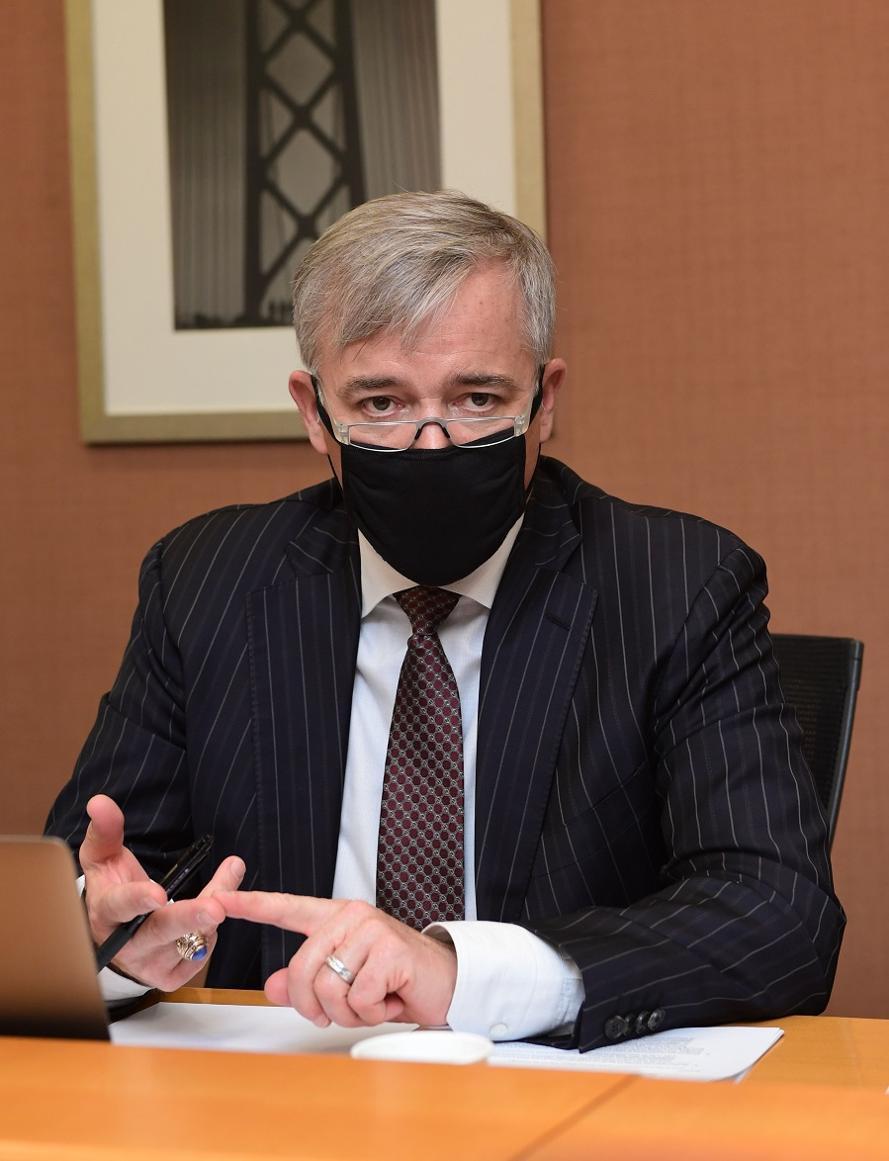 [관련기사
=
하이엘 모더나 글로벌 부사장 "바이러스 진화하고 질병패턴 변하기 때문에 코로나19 백신 접종 중요"
]
[MedigateNews] Moderna, one of COVID-19 mRNA vaccine development leaders, recently established a branch office in Korea and appointed a Representative Director to announce the start of their business officially. Dr. Randall N. Hyer, Vice President, Global Medical Affairs, Moderna ane and Hee-soo Kim, Medical Director, Moderna Korea presented their efforts so far and future strategies such as a response to Omicron variant through an interview.
Dr. Hyer said "We are also very concerned about Omicron variant as much as everyone else is. So, we are taking prompt actions so that we can respond quickly," and he explained that Moderna has three lines that are advancing in parallel: "We have the data which evaluated highdose(100㎍) booster shots in healthy adults who have completed the second dose and we are studying two multi-valent booster candidates designed to anticipate mutations, and rapidly advancing an Omicron-specific booster candidate."
The first candidate of multi-valent booster, mRNA-1273.211, includes 4 mutations present in the Omicron variant that were also discovered in the Beta variant. The second candidate, mRNA-1273.213, includes 8 mutations present in Omicron variant that were also present in Delta variant.
Dr. Hyer said, "What I want to emphasize here is that Moderna always tries to anticipate the virus that has the possibility of outbreak and prevent the expected virus in advance.
Q. How much time and cost will it take to develop a vaccine for Omicron variant?
Hyer: First of all, I want to say that we are fortunate enough to have mRNA technology. Not only does our mRNA technology help make new vaccine changes faster, but it also makes it easier.
Based on this, we predict that we would be able to come up with the results to a certain extent in early 2022. We will try to execute our strategy to address Omicron variantas fast as possible. However, no one knows a solution yet to address Omicron variant. Therefore, we are pursuing the three strategic lines that were introduced earlier. We plan to continue our activities in defeating threats caused by Omicron variant. The cost is not important, but achieving the effects we need is most important.
Q. The younger aged people have a lower fatality rate of COVID-19. There are certainly benefits from vaccination, but because of vaccine supply being limited, we have a question whether everyone should be generally vaccinated. What are your perspectives on that from a scientist's point of view?
Hyer: Covid-19 doesn't affect everyonein the same level. In particular, children often have mild symptoms. However, it doesn't necessarily mean that all children would have mild symptoms. Some children have more severe symptoms, which are sometimes referred to as Multisystem Inflammatory Syndrome(MISC). That's why it's important for everyone to get vaccinated. It will make sense to everyone that virus evolves and several disease patterns are changed along with the evolution.
In addition, since there are currently so many asymptomatic infections, children often becomes the most frequent source of infectious virus. They play a role in spreading the virus after returning from school or kindergarten. Therefore, it is very important that immunity is built in everyone. As such, we should prevent the spread of virus, reduce confirmed cases continuously, and reduce critically-ill and death cases.
Q. Is Moderna also thinking of developing the mRNA-based treatment for COVID-19?
Hyer: Moderna's mRNA platform offers so many possibilities. For those reasons, I think it will change the medical sciences. But, for now, Moderna is committed to the Coronavirus vaccine. This is because we think the vaccines are the most important resolution to defeat the COVID-19 pandemic. However, we are developing other treatments by utilizing mRNA technology. We are currently working on 37 projects to develop treatments for various diseases, including infectious diseases, immune-related diseases, and rare diseases. Now, we're committed to the coronavirus vaccine, but we're looking forward tomany more in the future.
Q. The development of multi-valent boosters for the mutant virus is rapidly progressing. Is there a possibility of developing a universal vaccine?
Hyer: I think that the universal vaccine itself is very interesting, especially in coronavirus. We started researching on the original SARS in 2003. Fortunately, I think we have been able to develop these vaccines so far because of our intensive research after the SARS outbreak. But, for now, the only answer I can provide is that we will give more careful attentions to our current situations. We have accomplished many things in the decades since SARS outbreak.
Vaccine development is one of them, and Moderna has been developing mRNA vaccines for over 10 years already. On the other hand, there are also many people who research on the biology of coronavirus itself. I want to emphasize that we are making great efforts to develop effective vaccines by combining their research results. Of course, it would be good to have the universal vaccine, but it should be considered that for the case of flu vaccines we have been using the vaccines of same technology since its development in 1940.
Kim: In the case of flu, we are also working hard to develop the universalvaccine. It has already been about 20 years since we tried to develop a universal flu vaccine. However, it is not as easy as you might think to find the unchanging parts from a virus that constantly mutates like the flu and coronavirus. Because measles does not mutate, the vaccine has not changed even after 50 to 60 years. On the other hand, the task is to find the parts that do not changein the case of flu and coronavirus.
by Do-young Park