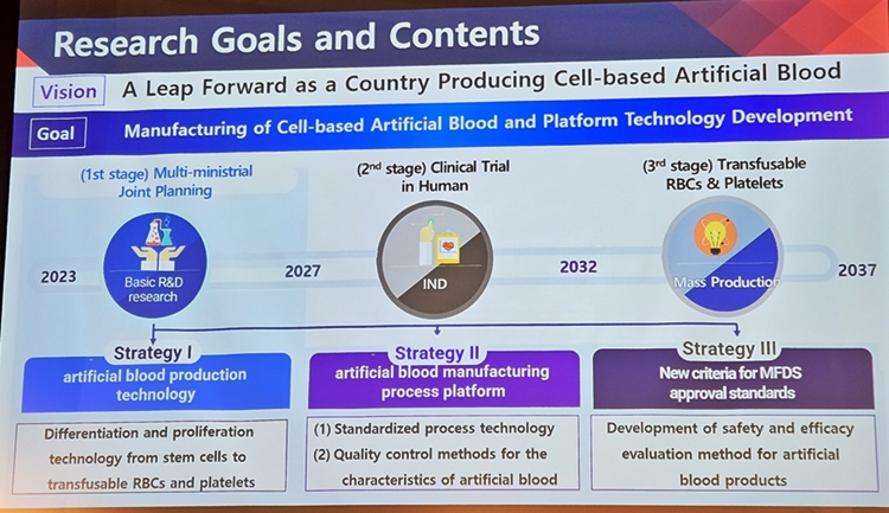 [관련기사=
5년씩 3단계 거쳐 2037년 인공혈액 상용화 도전
]
The ambitious research and development (R&D) journey has commenced, aiming to secure the technology for mass production of artificial blood for transfusions by the year 2037.
Kim Hyun-ok, the head of the Cell-Based Artificial Blood Manufacturing and Demonstration Platform Technology Development Project Team, recently presented the reasons, necessity, and direction of a large-scale artificial blood development project spanning 15 years in three stages at the Global Bio Conference 2023.
Director Kim mentioned, "Issues such as low birth rates, an aging population, and pandemics like COVID-19 are exacerbating the imbalance in blood supply," stating, "Especially in South Korea, where blood supply relies on donations, the problem of shortages is expected to become even more serious.
There have been instances of blood shortages due to cases like AIDS infections, MERS, and COVID-19." To address these issues, various government departments are operating the artificial blood project unit, planning for commercialization through joint investments and organic collaboration, leading to mass production.
Currently, worldwide research on stem cell-based artificial blood production is ongoing, with concurrent studies on the development of differentiation technologies for the production of red blood cells and platelets. In the United States, there are initiatives such as research on hemoglobin-based oxygen carriers, blood farming projects, and the improvement of stem cell-derived therapeutic blood products. The United Kingdom is leading research on stem cell-based artificial blood, focusing on oxygen carriers generated through in vitro cultivation of normal human cells. Japan is conducting research on platelet production through stem cell cultivation and has reported its results.
France has successfully achieved the world's first in vitro production of red blood cells using donated blood stem cells and aims for commercialization by 2030.
"Despite Korea being a powerhouse in stem cell research, the development of stem cell-based artificial red blood cells and platelet technology is still in the early stages," said Director Kim. She emphasized, "While there are over 20 small-scale projects independently underway, the establishment of this project team aims to foster collaboration and generate excellent technologies collectively."
The project is divided into three stages, each spanning five years, and aims to secure blood production technology and establish a mass production and manufacturing infrastructure for stable supply by the conclusion of the research in 2037.
With the cooperation of multiple government departments, including the Ministry of Health and Welfare, the Ministry of Food and Drug Safety, the Korea Disease Control and Prevention Agency, the Ministry of Science and ICT, and the Ministry of Trade, Industry, and Energy, this project, which starts this year, plans to invest 45 billion Korean won in the initial phase from 2023 to 2027.
The goal during this period is to secure cell-based artificial blood production technology and establish protocols and prototypes for artificial blood production. In the second phase (2028-2032), the focus will be on building a platform for the artificial blood production process, developing standardized process technologies, and establishing quality control measures tailored to artificial blood characteristics.
The third phase (2033-2037) aims to enable large-scale production and actual transfusions, establish a cross-departmental regulatory framework, formulate permit management strategies, and establish a blood safety management system.
Director Kim emphasized that new regulatory standards are needed for artificial blood, and regulations related to blood transfusions, as well as those pertaining to cell-cultured blood, must be reviewed. As cell-cultured artificial blood possesses characteristics of a public good and rapidly incorporates advancing cellular and genetic engineering technologies, consideration for a regulatory sandbox is also necessary. Support for regulatory improvements is essential.
By Min-ji Seo